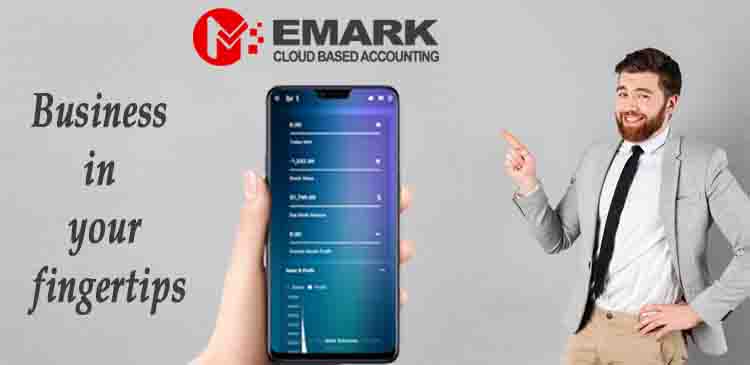 You will struggle with bookkeeping when it comes to accounting. It's difficult to turn pages, stash books, and overlook records, isn't it?
Here is the most effective solution. The eMark cloud-based accounting solution from Mark Solutions is the ideal accounting management system for your business. Take a look at our features in the list on the right hand side; you can manage all of your business functions at a glance. Are you still confused about what eMark does? Continue reading the article for a detailed explanation of what eMark is and what it can do.
What is cloud based accounting?
You seem to be puzzled as you wonder what cloud-based accounting is, and we have used the term cloud-based accounting solution.
As you may be aware, most accounting systems are simply placed on a computer that is operated at your business premises; these systems are referred to as desktop accounting systems. A cloud-based accounting system is based on the internet, where the accounting system is installed on high-end, powerful servers, and you may access the system from any device. You may access the accounting system from anywhere and at any time. Now that you have a better understanding of what cloud-based accounting is, let us dive deeper into what eMark cloud-based accounting is.
Why should you choose eMark cloud based accounting solution?
There are various accounting systems on the market, so if you're wondering what makes eMark cloud-based accounting so unique, have a look at the facts below and you'll be convinced why you should select eMark cloud-based accounting.
| | |
| --- | --- |
| | You will not have to be concerned about data loss or backups. Even if your device is damaged, you can still use emark. You might access the system via any device. |
| | Access is possible even through your mobile device, which means you have business in your pocket. Isn't it cool? |
| | With emark analytical reports, you may gain a better understanding of your company. By comparing your statistics, you will undoubtedly increase the success of your business. |
| | get additional features based on your requirements Customized eMark as you like, our skilled development team will provide you with exactly what you require. |
| | Having difficulties dealing with consumers. Send greetings, invoices, promotional offers, and business updates to your customers by SMS or email using your company name. |